The first breast pump with 2-Phase Expression® technology which is proven to achieve faster milk ejection and faster milk flow.*  More efficient and comfortable.  Unique overflow protection.  Double or single pumping.  One knob control.  Whisper quiet operation.  Easy-to-clean.
Featuring the original 2-Phase Expression® technology – found only in Medela breast pumps.
Babies breastfeed in 2 phases:
1. Stimulation Phase – when babies first go to breast, they suck fast and light to start milk flowing.
2. Expression Phase – after milk flow or "let-down" starts, babies breastfeed with a slower, deeper suck, bringing out more milk faster.
Features & Benefits
2-Phase Expression® technology: Designed to mimic a baby's natural nursing rhythm.
Convenient: Single or double pumping.
Two separate, independent membrane units: Allows switching between single and double pumping by simply applying or removing the second collection kit to the breast
Let-down button: Moms can easily return to stimulation by pressing the let-down button
Initiate and maintain milk supply: If direct breastfeeding is not possible, as well as collect breast milk at work or during other absences from the baby.
Hospital grade (multi-user): The pump's kit is separate from the pumping mechanism and protected from overflow by a specially designed membrane
Flex™ Technology:
Amal's Discount Chemist is excited to introduce the latest innovation in personal use breast pumps with the launch of the new Flex family of products. Whilst we have in the past and will continue to in the future, focus on innovation in the technology in the pump, this launch is a new innovation in the breast shield.
Our new range comes with PersonalFit Flex™ breast shields, developed with the help of a team of research scientists and breastfeeding mums.
It's designed to easily adapt to mums' shape, and encourages milk flow by helping prevent compression of the milk ducts.
The result? More comfortable, more efficient expression, shaped around mum.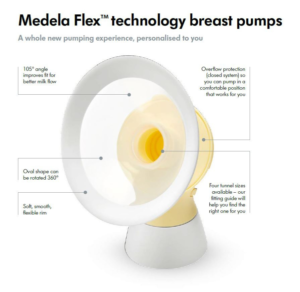 PersonalFit Flex™ connector
With our new PersonalFit Flex™ connector, you can pump in a more reclined and comfortable position. Medela Flex™ technology is a whole new pumping experience, personalised to you.
At a glance:
With overflow protection, prevents milk overflow into the tubing and motor
Easy to handle and clean
Made from BPA-free materials
Fits to Freestyle Flex™ breast pump